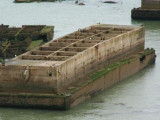 Port Winston - Arromanches
Arromanches-les-Bains is situated 5 miles E of Port-en-Bessin. A conspicuous statue of the Virgin
Mary stands on the crest of a hill close E of this village.
The caissons and wrecks of Port Winston, a former artificial harbor used for the Allied landings during WWII, front the ...