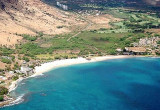 Makaha bay (Oahu Hawaii)
This is a huge anchorage directly in front of a wide valley. The valley was use for bombing practice during WWII. You can still see the observation towers used by the military.
Now, however, a fight has erupted between the government and the Hawaiians over the protection of the ...