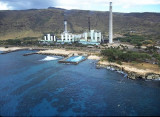 Kahe Point (Oahu Hawaii)
The prominent smoke stcks of the Hawiian Electric power plant are an obvious landmark. The Mehaffy guide claims that the trade winds are "reduced to a whisper".We anchored in about 9 meters of water so clear that ripples on the sand were easily discernable.
While there's not ...