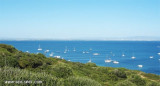 San Giovanni di Sinis (Tharros Sardegna)
The Phoenicians settled in Tharros to 800 BC, then came the turn of the Carthaginians in 500 BC.
Port Tharros became a place of passage and a strong center of commercial activity. Its privileged position within the Sinis peninsula, protected from the mistral, the fertility ...