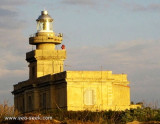 Capo S. Marco (Sardegna)
San Marco cape, limits Oristano Gulf to the N. It is a small peninsula connected to the mainland by a sandy isthmus.
It has a lighthouse, 16m high tower, with two terraces on a one-story house, all yellow.
S and N of the Isthmus, towers Vecchia and S. Giovanni are round and ...