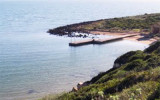 La Caletta (Oristano Cabras Sardegna)
La Caletta is a small cove that lies at the base of the cliffs of Capo San Marco.Located to the interior of Oristano Gulf, it is a natural shelter from the strong winds of the mistral.
The small beach marks the transition from the dead sea to the sea alive.
La Caletta is part ...