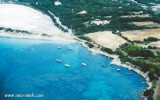 Cala delle Saline (S Antioco Sardegna)
After the tip delle Saline is a pond behind the beach, and Delle Saline beach continues to expand with sand dunes covered with abundant vegetation that separates the pond.

This cove is popular with windsurfers who take advantage of the wind blowing offshore.

Well sheltered ...