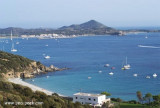 Golfo di Carbonara (Sardegna)
Carbonara gulf is located between Carbonara cape and Boi cape, in the Cagliari gulf, on its E side.Depending on the wind,we anchor on the W or E side of the bay. This large bay, rock and sand bottom, is very pretty and very crowded in summer.
NW of Carbonara cape, Carbonara Bay ...