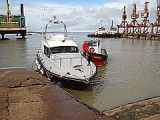 Porto do Itaqui (Maranhao Brazil)
Located on the coast of São Luís, the state capital, the port has a deep access channel and berths, enabling the mooring of large ships.
Port of Itaqui is the largest cargo port in Brazil, near the city of São Luís, Maranhão. It is not to be confused with the city of Itaqui, ...