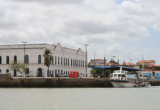 Port of Sao Luis (Maranhao Brazil)
The port of Sao Luishas silted up and has ceased to be important as a port after the construction of the port of Itaqui.
The port of Sao Luis is used mainly by fishing boats and pleasure craft. It has a few piers that allows mooring, but only at flood tide, to ships of 2,5 to 3,5 ...