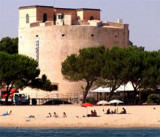 Torre di Torregrande (Oristano Sardegna)
The Aragonese Tower of Torregrande (15 m high) is surrounded by houses. A light is at the top.

It was built on the orders of the Spanish Viceroy Charles V (1537), originally called Tower "puerto de Oristan" (1639), only age Savoy had its current name: "Grande de Oristan" Tower ...