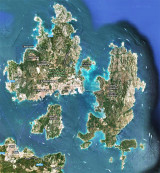 Isola La Maddalena (Arcipelago della Maddalena)
It is the largest island of the archipelago composed of sixty islets and 7 major islands, in the NE end tip of Sardinia. It is mountainous and arid. This is the only inhabited island thoroughly.
It is connected by a bridge to Caprera island where are the house and the tomb of Garibaldi. ...