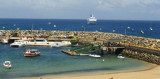 Bahia de Santo Antonio (F de Noronha N Brazil)
It is a natural anchorage place, just off the breakwater, which provides protection for the dinghy when landing. However, this anchorage is reported to be rolly. In the winter months (July) the seas here are generally calm.
A stone pier was built for tieing up small ships. Bigger ...