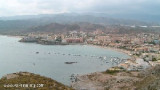 Cala Bardina (Murcia)
Mount Cope is a rocky promontory, steep, reddish, 250 m high. It has a front 0.75 mile long between the points of Penon de Santa Maria in SW and Cerro de la Cruz NE.
The first point forms the E end of Bardina Cove where there is a good anchorage well sheltered from E winds.Near ...