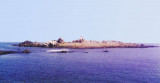 Isla Carrizal (Atacama N Chile)
Isla Carrizal is starboard, entering Puerto Carrizal Bajo, on the tip Escoria. It is almost round and is about 6 m high.The island and the tip Escoria are connected by an isthmus of sand, shingle and mining waste.
An islet, fringed by reefs, lies about 0.1 NM W of Escoria tip.