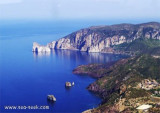 Scoglio Pan di Zucchero (Sardegna)
Pan di zucchero cliff is the most remarkable of small islands that are found in this part of the Sardinian coast.

Pan di Zucchero, rock 133 m high, is located opposite the Masua beach and short distance E of Porto Flavia.

The small beach Masua is made ​​of white ...