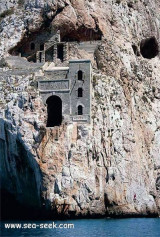 Porto Flavia Nebida (Sardegna)
Porto Flavia is an abandoned mine site since recent decades.
Minerals came from Masua, long galleries allowed to carry in the rocky walls and ended directly in the holds of merchant ships moored under the rock wall. Porto Flavia was used for the shipping of minerals.Mining ceased ...