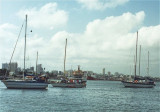 Porto do Natal (Rio Grande do Norte Brazil)
The port of Natal is situated at the mouth of the Rio Pontengi. The river flows into the sea through an opening in the barrier reef. The barrier reef forms a natural breakwater for the port.
The prevailing winds most of the year are from the ENE to SE.Formalities can be carried ...