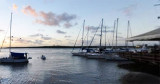 Iate Clube do Natal (Rio Grande do Norte Brazil)
The Iate Clube do Natal marina is in the town of Monsenhor Gil (Brazil).

Visiting yachtsmen welcomed. Good general repair facilities. Water, showers (cold water), bar and restaurant. (Pool & recreational facilities not open to visitors). Wifi and laundry services available. ...