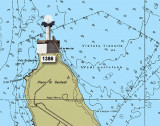 Capo Frasca (Arbus Sardegna)
Frasca cape is the N extremity of Piana di Santadi, a plateau, which rises perpendicularly from the sea and is covered with vegetation.
It is also the S extremity of the Oristano gulf.
A light is shown from a structure, 8m high, standing on the cape.From this cape lies a military ...