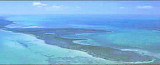 Elliot Key (Florida)
Elliott Key is the northernmost of the true Florida
Keys (those 'keys' which are ancient coral reefs lifted above the present sea level), and the largest key north of Key
Largo. It is located entirely within Biscayne National Park.
It is bordered by the Atlantic Ocean to ...