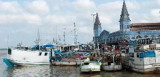 Port of Belem (Para Brazil)
The port of Belem is the most important commercial port on the N coast of Brazil. The port is situated on the E bank of the Rio Para about 70 miles from its mouth. Communication is maintained with all inland Amazon ports.

This is the best port at which to enter Amazonia, but ...