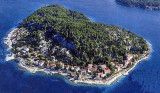 Otok Vrnik Korcula
The small inhabited island of Korcula Vrnik is separated by a channel about 0.1 nm wide by 5 m deep.
A hamlet northwest of the island has a small jetty where you can dock by 8 m.
Good shelter except the SE.
No service.
Approaching from the NW Jezevica kanal, attention ...