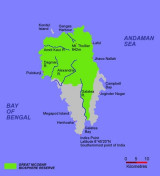 Great Nicobar island
Great Nicobar is the largest of the Nicobar Islands of India, it is also the southermost point of India.
The island covers 1045 km² but is sparsely inhabited.
The island was severely affected by the 2004 Indian Ocean earthquake tsunami with many deaths, and was cut off ...