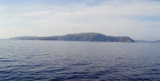 Isola dell' Asinara (Sardegna)
Asinara is the second largest island of Sardinia after Sant'Antioco. A Marine Reserve was created arounds the island and the Fornelli passage.
This island has been declared National Parc. It is a narrow territory stretching from North to South, with a very indented coastline, which ...