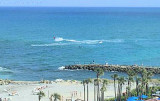 Boca Raton Inlet (Florida)
Boca Raton inlet is a narrow dredged cut through the beach 5 miles northward of Hillsboro Inlet Light. It is used mostly by party fishermen.
The hotel at Boca Raton is a prominent landmark.
The mouth of the inlet is protected by short jetties marked by private lights. In May ...