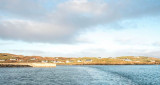 Clare Island harbour
The harbour on Clare Island offers good shelter from all wind with West in them, but is completely open to Easterlies.
Do not come alongside the new (outer) pier, which is used by ferries. It is possible to dry out alongside the inner pier, or indeed anywhere in the inner harbour, ...