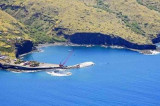 Kaumalapau Harbor (Lanai Hawaii)
Located on the southwestern coast, Kaumalapau is the main commercial seaport for Lanai.
The original harbor breakwater located here was built in 1920's but was severely damaged by hurricanes. A new breakwater was built by the U.S. Army Corps of Engineers and was dedicated on ...