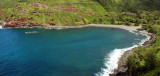 Honolua bay (Maui Hawaii)
Wonderfull anchorage, great snorkeling.
Get there early before the tour catamarans arrive and be careful not to anchor on the coral; big fines if you damage.
The bay has two bights. You can only anchor in the eastern.
This is a great snorkeling spot ( by mid-morning you will ...