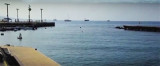 Kailua Kona bay and pier (Hawaii I)
The harbor is located in Kailua Bay in Kailua-Kona.
The bay where you can anchor is known to local sailors as Nishihimura bay. Five and a half miles S of Upolu Point you'll see a small cove with manmade rock wall on the N face of the cliff. This wall was built for the ralroad ...