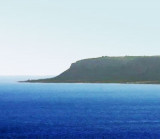 Cabo de Santa Pola (C Blanca)
A promontory, which terminates at Cape of Santa Pola, is marked N by a deep ravine. The Cape of Santa Pola is located NE of the town of same name, in the province of Alicante.

Coming from S Cape marks the start of the Bay of Alicante.
The lighthouse ...