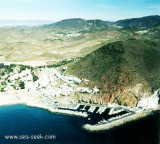 Puerto deportivo San José (Murcie)
The natural harbor of San Pedrose is located near a village with a castle. By strong SW winds, avoid this port.
Great restaurants at the port or you can enjoy very good fish, animations and circus atmosphere of the evening near the beach in town, clown show, fire etc. ...
T. ...