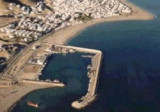 Puerto Carboneras (Murcia)
Small fisherman's port at the foot of Sierra Cabrera, well sheltered.
From all the beach of Carboneras one sees the island of San Andrés, small rocky island of 1,5 hectares whose silhouette on the horizon evokes that of a whale.T. 950 13 07 39F. 950 23 29 49Mail: www.eppa.es679 pl.