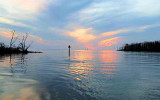 Boot Key Harbor (Florida)
Boot Key Harbor is located into the everglades, in Florida SW, outside Little Shark River.
The entry is northwest of unlighted daybeacon #4 .
Generally it's a good mooring, with minimum 5,5 feet, when the bay is calm.
Do not swim in the bay because of Alligators. Many ...