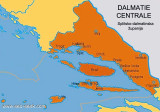 Splitsko-dalmatinska županija (Split-Dalmatia County)
Split Dalmatia county covers theS part of Dalmatia. The main town is Split, Croatia's second largest city by population and it is the largest city in Dalmatia.
Split is situated on a peninsula between the part E of the Gulf of Kastela and the Split Channel.
The city is ...