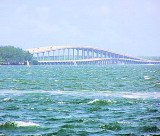 Key Biscayne (Miami)
Key Biscayne is an island located in Miami-Dade County, Florida, United States, between the Atlantic Ocean and Biscayne
Bay. It is the southernmost of the barrier islands along the Atlantic coast of Florida, and lies south of Miami Beach and southeast of Miami. The Key is connected ...