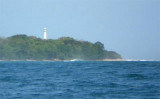 Tanjung Balimbing Pamancasa (Vlakke Hoek - SW Sumatra)
Tg Balimbing (Belimbing) is the S point of Teluk Balimbing and the NW entrance point of Selat Sunda.
The coast is generally low and densely overgrown, but inland the country is mountainous.Teluk Balimbing indents the coast just N of Tanjung Balimbingpamancasa. The village of Balimbing ...