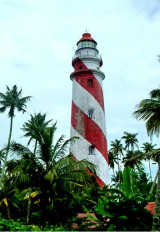 Tangasseri Point (W India)
Tangasseri Point Light is shown from a concrete tower, 41m high, painted in black and white diagonal stripes, on the point. The point has been reported to be a good radar target at 17 miles.
The coast from close E of Tangasseri Point to about 3 miles NNW of it is rocky with groves ...