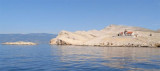 Otok Sv. Grgur, Goli et Prvic
These three islands are N of the island of Rab.Otok Goli, bare and precipitous in its NE part, lies on the W side of Velebitski Kanal 9 miles NNW of Jablanac.
This island is generally steep-to except at its SE extremity where a rocky reef extends up to about 0.5 mile SE.
Rt ...