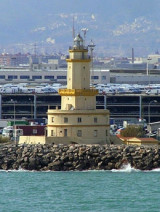 Punta del Llobregat (Barcelona)
Llobregat point forms the N side of the mouth of the Llobregat river which crosses the plain of the same name.
The point is marked at N by the lighthouse, 31 m high, located S of the Barcelona harbour entrance. About 2NM WSW of the lighthouse, a radio beacon is remarcable.