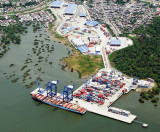 Buenaventura Harbor (Colombia Pacific Coast)
This port is located at about the midway point in Colombia's Pacific coast. It has the reputaion of being one of the most violent cities in the country.
It's a port of entry.

Phone: 691 43 48
Fax: 691 43 52
Mail: matildec@sprbun.com

Great care needs to be ...