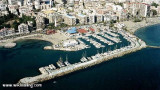 Puerto de Marbella (Andalousie)
Marbella is in the heart of the western Costa del Sol, between the slopes of the Sierra Blanca and the coastline. This fishing village of yesteryear has become a colorful seaside resort.
The bottoms are sometimes rocky. It's possible to anchor in the bay by 15 to 16 m of water ...