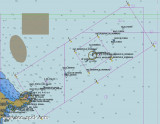 Islas Hormigas (Cabo de Palos-Murcia)
Hormigas islands located in the region of Murcia, 2MN and a half from the coast.
Las Hormigas, formed by a chain of islets and rocky shoals, extends up to 3 miles NE of Cabo de Palos.

Islas Hormiga, the largest islet of this chain, lies 2.3 miles NE of the ...