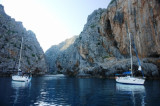 Cala de Sa Callobra (Mallorca)
La Calobra is a cala bordered by a sandy beach that emerges from a setting of grandiose rocks. You can anchor there, however the shelter is precarious as soon as there is a little swell. The cliffs reflect the sea and the body of water quickly becomes hectic.
You can visit the ...