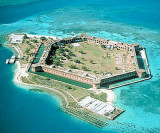 Garden Key (Dry Tortugas) (Florida)
Garden Key is the site of historic Fort Jefferson National Monument, a hexagonal structure with walls 425 feet long rising from a surrounding moat.
In 1846, the US Army began to construct a massive fortification on the tiny island known as Garden Key. Sixteen million bricks were ...