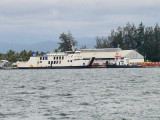 Teluk Pulaubaai (Bengkulu - W Sumatra)
Teluk Pulaubaai is located 8 miles SE of Bengkula. The bay is completely separated from the sea by a tongue of land, making it an excellent anchorage for shipping.
The middle of the harbor has a dredged depth of 10m. The dredged channel opening out to the sea has a depth of 10m, ...