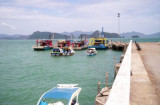 Pulau Tuba (Langkawi)
Pulau Tuba (5 km S of Langkawi) is the only inhabited island besides the main island of Langkawi itself. This Langkawi island gets its name from the tuba roots. It is the only other island that offers accommodation and there are a few places to stay.
At Pulau Tuba, you can experience ...