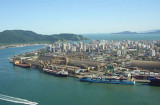 Port of Santos (Sao Paulo)
Santos lies some 230 NM SW of Rio de Janeiro and is Brazil's biggest and most important port. The city lies partly on the island of St Vncent, and partly on the mainland. This is not an attractive stop but useful for repairs.
The port of Santos is located in the city of Santos, ...