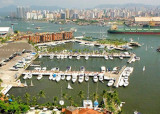 Yacht Club of Santos (Sao Paulo)
Call prior to arrival. Visitors' dock. All facilities including haul out and a boatyard with all services. Small supermarket on site. Fuel berth. Note that the restaurant, bar, swimming pool and tennis courts are for members only and visitors are not permitted to use these facilities.

Tel:+55(0)13-3358-2980 ...