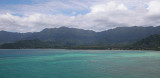 Kanehoe Bay (Oahu Hawaii)
This bay is on the north east coast of Oahu and is protected by the Mokapu Peninsula.
This bay is very calm and sheltered. Together with the crystal clear water, it makes a very attractive anchorage. There are four marinas here as well as four anchorage areas. Anchor in the North ...